Paige Hernandez is a multidisciplinary artist who is critically acclaimed as a performer, director, choreographer and playwright.  As an AEA equity actress, Paige has performed on many stages throughout the country. She has collaborated with the Lincoln Center and has been commissioned by several companies including the National New Play Network, the Smithsonian, The Kennedy Center, La Jolla Playhouse and the Glimmerglass Festival. She is the recipient of an Individual Artist Award from the Maryland State Arts Council as well as four Helen Hayes nominations for choreography, directing and performance.  Paige has also been named a "classroom hero" by The Huffington Post, a "Citizen Artist Fellow" with the Kennedy Center, "40 under 40" by the Washington Post and one of "Six Theatre Workers You Should Know" by American Theatre Magazine. She is elated to be the Associate Artistic Director of Everyman Theatre in her hometown of Baltimore, MD. With her company B-FLY ENTERTAINMENT, Paige continues to develop and tour original work internationally. www.paigehernandez.com
Full Bio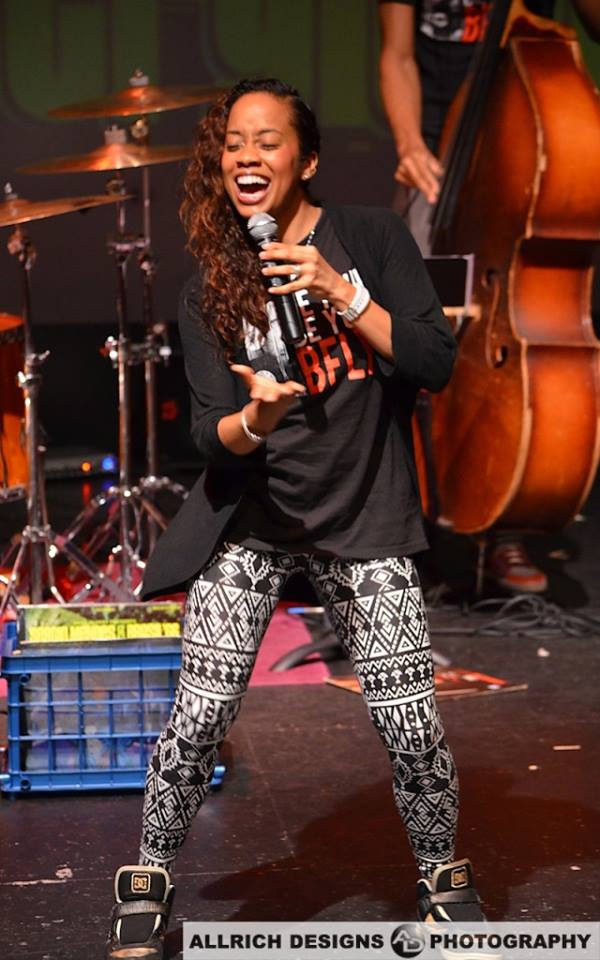 In 2011, Paige started her own company, B-FLY ENTERTAINMENT.
 10 original shows, 5 commissions,  11 years of touring. 100+ venues. 40+ States, 6 countries. 
Countless workshops. 200+ residencies. Several awards. More than 100,000+ audience members to date.
B-FLY ENTERTAINMENT specializes in productions of all art mediums that speak to a multi faceted hip hop generation. Inspired by artistic collaborations and created in the spirit of B-girls, B-FLY houses all of Paige's  original shows including:Paige in Full, Havana Hop, Liner Notes, The Nayika Project, All the Way Live and a hip hopera, Stomping Grounds!
Please visit www.bflyentertainment.com for more details on each of the shows and their accompanying residencies, workshops and master classes.You can also join the B-FLY mailing list and follow B-FLY on facebook and twitter.
B-FLY seeks to elevate hip hop within the art community.
BE TRUE. BE YOU. B-FLY.
Since 2010, B-FLY Entertainment has toured to various venues throughout the world. Listed below are just a few from the past few years. Additional production/touring history can be furnished upon request.

Children's Theatre of Charlotte, NC
Des Moines CPA,  Des Moines, Iowa
Victoria Theatre, Dayton, OH
BAM, Brooklyn, NY
Virginia Tech University, VA
University of Texas at Austin, Austin, TX
The Wharton Center at Michigan State University 
National Council of the Arts, Singapore
Overture Center for the Arts Madison, WI
South Miami Dade Cultural Arts Center, Miami FL
Park Square Theatre, St. Paul MN
Alliance Theatre, Atlanta GA
The Kennedy Center, Washington, DC
Trust Cultural Arts, Pittsburgh, PA
Edmonds Performing Arts Center Edmonds, Wa
The Lincoln Center, New York City
PopeJoy Hall, Albuquerque, NM
NJPAC, Newark, NJ
The Smith Center, Las Vegas, NV
Arnolfini Theatre, Bristol, UK
Capital Jazz Super Cruise, Caribbean Islands
Playhouse Square, Cleveland Ohio
The Stratz CPA, Tampa, FL
Broward Center for the Arts, Ft. Lauderdale, FL
Paige is available to facilitate a variety of workshops for your school, theatre or organization.
All workshops can be adapted to fit any length of time or age range.
As a master teaching artist, Paige has taught throughout the country, to all ages, in all disciplines. To date, she has reached over 10, 000 students, from Pre-K through college, in over 100 residencies, workshops and performances. She has been recognized in many organizations including the Wolftrap Foundation for Early Learning and Arena Stage where she was awarded the Thomas Fichandler award for exceptional promise in theater education. Paige was also named a "classroom hero" by the Huffington Post.
Check out Paige's most popular workshops below and if you still don't see something that fits then you can create your own! Paige can create a workshop that meets your participants' needs or your classroom's curriculum. Combine elements from the workshops below or pow-wow with Paige to create something unique, inspiring and interactive. Paige has also created unique workshops with early childhood education, STEM areas, film acting, world dance and audition techniques.
Hip Hop Body Rock
Calling all fly girls and b-boys! Learn about significant hip hop choreographers, different styles of hip hop dance and regional/cultural influences. Then it's time to stretch and flex before you learn a brand new hip hop routine. Warning: after taking this class, your swagger may go into overdrive!
Community Collabo
As ensemble, participants will write, devise and perform their own ten-minute theatrical piece. Paige will lead the group through transitions, tableaux and basic play building. In the end, resources will be plentiful for the group to continue to create meaningful pieces in their communities.
Rap, Clap, Write That!
A pen and a paper is all you need to be a playwright! Effortlessly create characters, plots and setting using hip hop inspiration. Participants will be inspired to create poems, monologues and basic dialogue. If there's time at the end, we'll share the genius.
DST: Hip Hop Strategies and Activities for the Classroom and Stage
Participants will explore innovative hip hop teaching methods, activities and exercises to supplement curriculum and/or to use in performance pieces. The workshop will show how each hip hop element (Emcee, DJ, Graffiti and B-boy) can easily be transformed into exercises or performance pieces.